To celebrate the release of DUNGEONS & DRAGONS: HONOUR AMONG THIEVES in UK and Irish cinemas on 31st March, eOne has collaborated with British craft brewers Mondo to create a limited-edition craft beer, Hither Thither.

Inspired by the film, the beer has been named after the magical staff which can portal the user to another location. A 4.8% New England Pale Ale, Hither Thither is a sessional pale ale bursting with fruit and haze. The limited edition comes in a specially created can with artwork from celebrated illustrator Luke Drozd depicting the mythical creatures and locations from the film – including an Owl Bear, Dragons, weaponry and other iconic elements from the world of Dungeons & Dragons, all wrapped around Mondo's signature design style.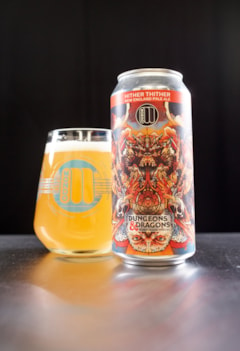 Hither Thither will be available through specialist craft beer retailers from March 27th. Watch behind-the-scenes footage of the beer being produced on Mondo's official Twitter and Instagram.

"Dungeons & Dragons is one of the most iconic properties amongst craft beer drinkers and we were inspired by the film to create Hither Thither to transport drinkers into the world of Dungeons & Dragons: Honour Among Thieves."
- Todd Matteson, Co-Founder of Mondo Beer

"We are delighted to have partnered with Mondo, an authentic British craft brewer, to create a Dungeons & Dragons: Honour Among Thieves-inspired beer and a beautifully-designed limited edition can that we hope fans will love."
- Chris Besseling, Head of Marketing at eOne

- - -

Dungeons & Dragons: Honour Among Thieves is released in cinemas in the UK and Ireland March 31st 2023.

Chris Pine, Michelle Rodriguez, Regé-Jean Page, Justice Smith, Sophia Lillis, Chloe Coleman, Daisy Head and Hugh Grant all star in this epic fantasy based on Hasbro's iconic table-top game Dungeons & Dragons.

A charming thief and a band of unlikely adventurers undertake an epic heist to retrieve a lost relic, but things go dangerously awry when they run afoul of the wrong people. Dungeons & Dragons: Honour Among Thieves brings the rich world and playful spirit of the legendary roleplaying game to the big screen in a hilarious and action-packed adventure.

Dungeons & Dragons: Honour Among Thieves is co-directed by Jonathan Goldstein and John Francis Daley (Spider-Man: Homecoming, Game Night, Horrible Bosses) with the screenplay by Jonathan Goldstein, John Francis Daley and Michael Gilio. Story by Chris McKay (The Lego Batman Movie) & Michael Gilio. Jeremy Latcham, P.G.A (Spider-Man: Homecoming, The Avengers, Iron Man, Guardians of the Galaxy) Brian Goldner and Nick Meyer all serve as producers with executive producers Denis L. Stewart, Jonathan Goldstein, John Francis Daley, Chris Pine, Zev Foreman, Greg Mooradian.

Watch the movie's trailer
Movie stills available here
Further Hither Thither images are attached to this email

Dungeons & Dragons: Honour Among Thieves is a Paramount Pictures Production in association with eOne.

About Mondo
Mondo Brewing Company is a brewery founded on its global influences, which may be unsurprising as Mondo translates to "world". Our founders, Todd and Tom, have travelled all over, deciding to settle in Battersea. The brewing processes we use at Mondo can be directly linked to those found all over the world.

About eOne
Entertainment One Ltd. (eOne) is a talent-driven independent studio that specializes in the development, acquisition, production, financing, distribution and sales of entertainment content. As part of global play and entertainment company Hasbro (NASDAQ: HAS), eOne's expertise spans across film, television and family programming. Through its extensive reach and scale, and a deep commitment to high-quality entertainment, eOne unlocks the power and value of creativity.
eOne brings to market both original and existing content, through a diversified network of creative partners and eOne companies.