The next releases from the SPOTLIGHT by QUANTIC DREAM label are coming your way, as Gamescom 2023 arrives, our latest indie stars Under The Waves, Lysfanga: The Time Shift Warrior and Dustborn are back for a new round of trailers and annoucements!

UNDER THE WAVES
Parallel Studio is gearing up to deliver its new narrative adventure game, Under the Waves, almost 4 years after its first prototype. Available on Tuesday, August 29, in digital version on PC, PlayStation 5, PlayStation 4, Xbox Series S/X and Xbox One, Under The Waves marks its release with a launch trailer.


A deluxe physical version will also be available on August 29, for PlayStation 5, PlayStation 4, Xbox Series S/X and Xbox One. It includes an art book and a set of exclusive stickers.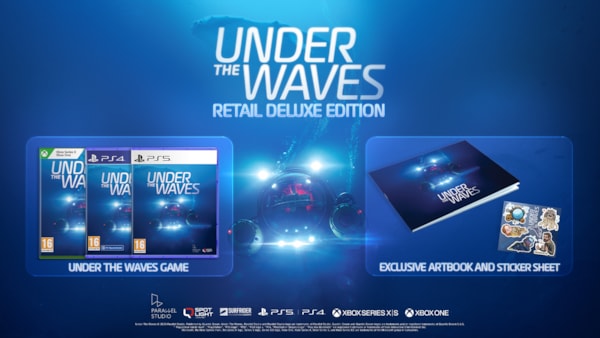 You can follow the game on the official UnderTheWavesGame.com website and on Parallel Studio's Twitter account.


LYSFANGA: THE TIME SHIFT WARRIOR
The brainchild of Sand Door Studio, Lysfanga: The Time Shift Warrior will be coming to PC in early 2024. The game revisits the classic hack'n'slash concept, with a tactical twist: you control Imë, a powerful heroine who can summon clones from her past to help her battle hordes of enemies, in countless arenas. Tailor-made for speedrunning, Lysfanga: The Time Shift Warrior is also a perfect fit for those looking for a unique action experience!


You can now wishlist Lysfanga: The Time Shift Warrior. You can also follow the official Sand Door Studio page and Twitter account.


DUSTBORN
Dustborn, imagined and developed by the team at Red Thread Games in Oslo, Norway, offers a surprising retelling of the action-adventure game with a high narrative content, boosted by comic-book-style art direction. Set to be released in 2024 on PC, Playstation 5, PlayStation 4, Xbox Series S/X and Xbox One, the wild ride of Pax and her crew through the dystopian Divided States of America, part postcard, part totalitarian, is revealed in this new epic trailer!

You can now wishlist Dustborn on PC and consoles. Find out all the latest news on the official website https://www.wearedustborn.com/ and the Twitter account.
About Quantic Dream
Quantic Dream is a Paris and Montreal-based independent video game studio created in 1997 by David Cage. The unique narrative experiences offered by
Heavy Rain™
,
Beyond: Two Souls™
,
Detroit: Become Human™
, have reached millions of players around the world and won more than 250 international awards.
Independent publisher since 2019, Quantic Dream also supports the creation of video games by original creators with unique visions, which are brought to life with the help of Quantic Dream's expertise and means of production.
For more information, visit our official website:
http://www.quanticdream.com
For career opportunities visit:
http://www.quanticdream.com/careers
You can find all the news about Quantic Dream on Twitter here:
@Quantic_Dream