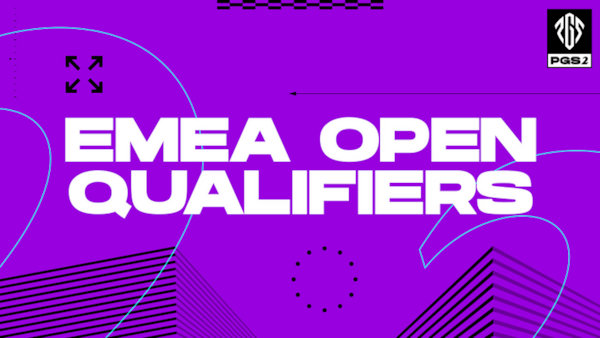 Registrations for the PUBG Global Series 2 (PGS 2) EMEA Open Qualifiers are live. All eligible players can sign up regardless of experience level, and the best teams from Europe and MEA Open Qualifiers will progress to the closed EMEA Qualifiers. There, squads will compete for places at the main event: PGS 2, taking place in Saudi Arabia and featuring a prize pool of $2,000,000!

The top finishers in the EMEA Qualifiers will also earn vital PGC Points, taking them one step closer to the PUBG Global Championship later this year.

As with PUBG Global Series 1 (PGS 1), the EMEA region will be sending five teams to PGS 2. Two of these teams will qualify based on their performance in the EMEA Qualifiers, with our three Global Partner Teams, FaZe Clan, Natus Vincere and Twisted Minds, filling out the rest of the representation for EMEA.

PGS 2 EMEA Qualifier Schedule
The full PGS 2 Qualifiers Schedule for EMEA is as follows:
PGS 2 EMEA Open Qualifiers: June 12 - 17
PGS 2 EMEA Qualifiers (24 teams): June 29 - July 9

Top 14 teams from Open Qualifiers

10 from Europe
4 from MEA

8 EMEA Partner Teams
Winner of PEC: Spring (HOWL)
Winner of The Rotation
There will be no official PGS 2 EMEA Open Qualifiers broadcast. Details on PGS 2 EMEA Qualifiers broadcasts will be shared in the coming weeks.

Registration
Europe Open Qualifier: link

Registration deadline: Sunday, June 11 at 18:00 CEST

MEA Open Qualifier: link

Registration deadline: Tuesday, June 13 at 18:00 CEST
PGC Points Breakdown
While only the top two teams from the EMEA Qualifiers (excluding Global Partner Teams) will secure PGS 2 qualification, the top 16 teams will earn PGC Points as follows: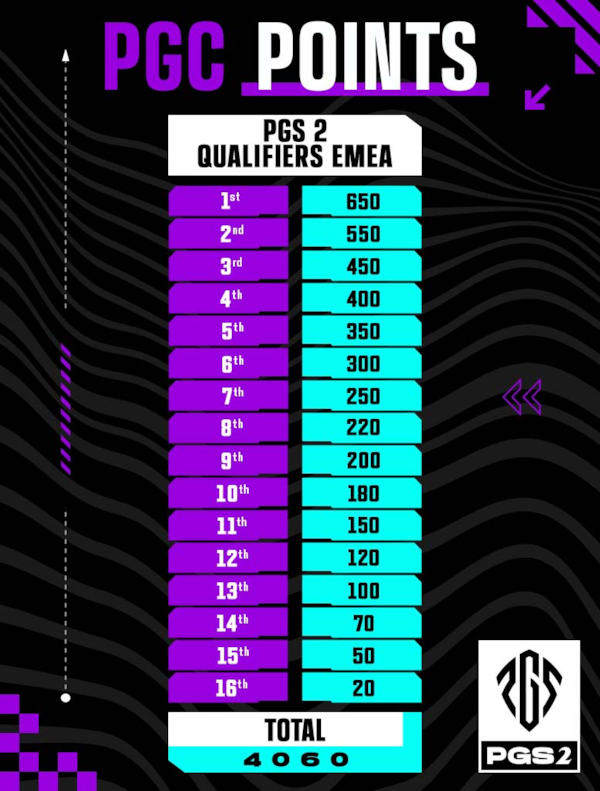 With the addition of the PGS 2 EMEA Qualifiers, the EMEA PUBG Esports 2023 season calendar now features a total of four PGC Point-awarding events:
PUBG EMEA Championship: Spring
The Rotation
PGS 2 EMEA Qualifiers
PUBG EMEA Championship: Fall

For more details about PUBG Esports, please visit the official website at www.pubgesports.com or follow us on social media: YouTube, Twitter, Instagram, Twitch and TikTok.

More details on PUBG: BATTLEGROUNDS, are available at www.pubg.com and on official social media channels: YouTube, Twitter, Instagram, Facebook, Twitch, TikTok.
# # #
About KRAFTON, Inc.

Based out of South Korea, KRAFTON, Inc. is a collective of independent game development studios bound by a passion for creating innovative and engaging entertainment experiences for gamers worldwide. Founded in 2007, KRAFTON consists of PUBG STUDIOS, Bluehole Studio, RisingWings, Striking Distance Studios, Dreamotion, Unknown Worlds, 5minlab, Neon Giant and KRAFTON Montréal Studio, each with its own unique expertise.

KRAFTON is responsible for premier entertainment properties, including PUBG: BATTLEGROUNDS, The Callisto Protocol, NEW STATE MOBILE, Moonbreaker, TERA and ELYON. With a team of 3,000 members across nine countries, KRAFTON is a technology-driven company that boasts world-class capabilities as it seeks to expand its areas of business beyond games to multimedia entertainment and deep learning. For more information, visit www.krafton.com